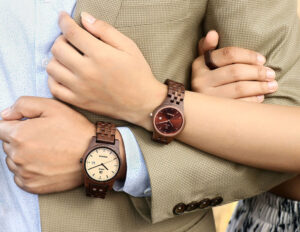 Valentine's Day is just around the corner, and it's time to start thinking about the perfect gift for your significant other. If you're looking for something unique and stylish, a couple wood watch from Okhar is a great option.
Okhar is a luxury watch brand that is known for their high-quality timepieces made with natural materials. Their couple wood watches are made with sustainable wood and feature a sleek and modern design that is perfect for everyday wear.
One of the standout features of Okhar's couple wood watches is their natural beauty. The wood used in these watches is carefully selected and handcrafted to create a one-of-a-kind look. These watches are available in a range of wood finishes, including maple, ebony, and bamboo, so you can choose the one that best suits your personal style.
In addition to their stylish design, Okhar's couple wood watches are also highly functional. They are equipped with reliable and accurate Japanese quartz movements, and they have durable mineral crystal lenses that protect the watch face from scratches and other damage.
So if you want to give your significant other a unique and thoughtful gift this Valentine's Day, consider a couple wood watch from Okhar. Not only will these watches look great on your wrist, but they will also serve as a constant reminder of your love and commitment to each other.